About Us
We are a small yarn company from Genoa, Italy. Our aim is to create unique yarns containing noble local fibres.
Our yarns are made following a short chain production, which is 100% traceable: it begins with fibre gathering that we do directly from local breeders, it proceeds in two experienced mills where our blends are composed and take the shape of yarns and it ends in our studio where we hand dye skeined threads in small batches.
Quantities of each yarn type are quite limited, because they are directly conditioned by the yearly yield of the fibres we select, by the herds dimensions and the mills production capability as well.The short scale we chose to use is very important for us, as it lets us have control on each stage and aim to very high quality standards, working closely with the skilled mill keepers to get the best out of each blend of fibres; in fact, each batch coming out of the mills is slightly different and hence unique, just like a precious wine that varies from one year to another, and the same applies to the dyelots, that reflect the artisanal process.So, each skein is able to tell a story, through materials and colours, and is made to cuddle and highlight every knitted garment you'll create.
The origin of our project roots back to the past years of teaching handspinning and textile arts, a fulfilling activity that made us travel around Italy getting to know the job of many herders who decided to recover local wool breeds and ste up precious fibres farms. During that period we decided we wanted to promote this hard work, and do it through what we were prepared to do: high quality yarns with an artisanal soul.
That's why we decided to have our yarns spun in small skilled mills of italian textile district manufacture, that can process reduced amounts of fibre and get high rates in quality and keep intact the noble fibres structure and character at their best.Taking this path we preferred to give up the exact perfection and repeatability of commercial yarns, and create niche threads with a strong character to express.
During a trip to the Edimburgh Yarn Festival a few years ago we started to figure how we could transform this little treasure of knowledge and contacts we had been building in a project that would push it forward, that would speak of the precious fibres we found out in our territory, of the manufacture with hundred years of experience in spinning, and above all of the unique and artistic character inherent artisanal products.
One evening, we sat at dinner in Florence talking about all these ideas with some friends, and one of them just described us as LANIVENDOLE - women who sell yarn in their dialect - and this remained our brand ever since.
Our Team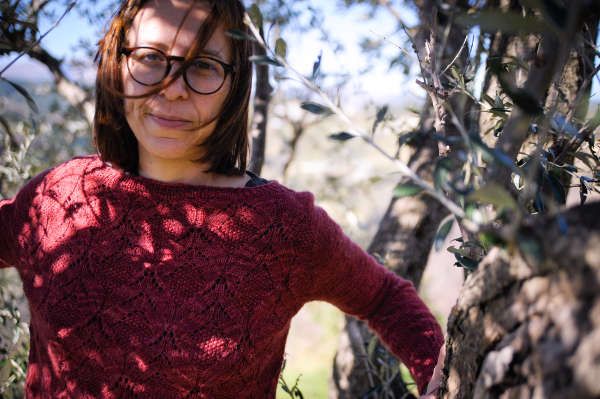 Stefania
Threads have been part of my life since I was a toddler, being raised by both my seamstresses grandmother who also taught me knitting when I was around 8. After graduating in Science of Marine Environment I started working in a fair trade organization, started a family and moved to the countryside on the beautiful hills above Genova, and looking back I see that craftiness has always been part of everything I dealt with, somehow I guess I have an handy approach to life. When I discovered handspinning this attitude just came to the surface and a whole world was revealed: to study fibres and their behaviour, how to dye, comb and treat them was love at first sight. So I founded an Association to promote textile arts with a great friend Federica, and all our project just started from that! By now I deal with all the paper and administrative jobs, purchases and commercial promotion; I write our newsletter and share with Giulia all our contents, scheduling, palette and yarn creation and dyeing of course.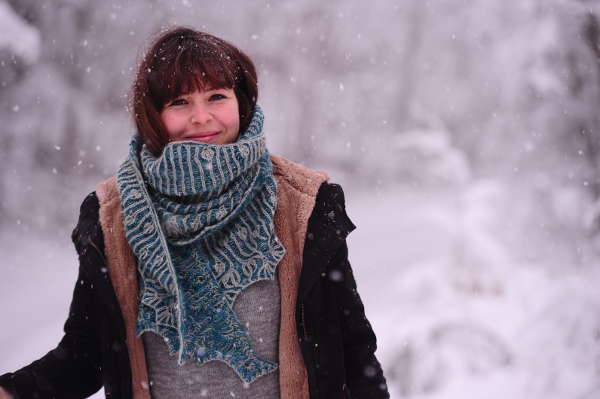 Giulia
I started knitting a few years now, I got there after having had quite different experiences in my life, and having travelled from Verona, my hometown, to Ireland where I used to live for a while. I came up with hand spinning during a workshop held by tefania and Federica, because I had a clear idea in my mind: launch a cashmere goat farm. So I learnt the work living in a big livestock in Chianti, and then I moved on the uplands between Liguria and Piemonte, where I now run a farm with nearly 60 goats. I'm part of Lanivendole since we decided to put together both handspun and millspun yarns, and take them beyond and see what we could get. By now I share many activities with Stefania, and especially I take care of all the photography for both our website and social media, I deal with our Instagram profile, shipping orders and keep contacts with breeders and the mills.
If you choose one of our yarns, you'll get close to everything we enclosed in it: you may carry yourself through our harsh coastlines above the mediterranean dark blue sea, among our shouting and smelly alleys in seafaring boroughs.Yo may expect to receive an honest thread, simple and sheer like handy people here, that will become familiar especially after knitting, it will bloom revealing its smoothness, it will keep you warm and retain its shape because that's what it was created for.You'll find colors inspired by all our surroundings, from the seaside to the dark stone walls of our hometown, they tell a background music, hues vivid like feast days as well as pastel tones evoking rare peaceful moments.
You'll also be able to book for one of our exclusive CLUBS that we conceived in partnership with other amazing italiian artists and makers, to let you indulge yourself in limited edition lush yarns accompanied by dedicated accessories.
Remember, if you wish to be updated on our yarn and get to know in advance about clubs and yarns releases, we strongly suggest to sign up for our NEWSLETTER HERE